Getting Started
Contact | FAQ | How to Play | System Requirements
First Time Visitors
To open an account and begin playing, please take a few moments to register. There will be a short delay whilst we check the information you have given us (see verification below) but should you have any difficulties registering then please CONTACT US, our Customer Service Team is available 365 days a year.
Once you have registered you will be able to use your account to place wagers with us.
Please note that your username and password should be kept safe to prevent unauthorised access to your account. If you suspect that someone else has obtained your login details, please CONTACT US immediately. Each time you log in, your last login time is displayed in the top right hand corner of the page, please check that this is correct. All times displayed are in Coordinated Universal Time (UTC). UTC is also known as GMT or Greenwich Mean Time.
Verification
The first time you register there will be a short verification process during which we will check that your details comply with the Alderney Gambling Control Commission regulations.
This process is automatic and does not require any more information from you.
There may be occasions where the information you have provided upon registration is not the same as the data held by our verification company. In that case, you may be referred to our customer services team who will help to correct your details and manually verify your account.
If you have any difficulties or require further information please contact customer support by emailing support@gamesxtra.co.uk or call us
How to register
Membership is easy and it takes just a few minutes to fill out the registration form.
Below are examples of how to complete the various sections of your form:
User Details
All fields in this section are compulsory and must be accurately filled in for security purposes.

Example: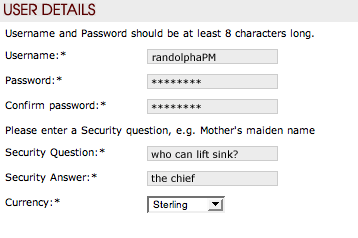 The Username field can only contain numbers, letters and an underscore (_).
The password you choose must be unique and can only contain numbers, letter and underscores (_). You will have to re-type your password in the Confirm Password field.
You will then be required to provide a security Question and unlike the previous fields, this can contain spaces. Along with your question, you will need to submit a Security answer. Please be aware that you may be asked this question for security purposes so you should make the question and subsequent answer something you will easily be able to remember.
The Currency drop-down allows you to pay with Sterling (GB Pounds), Euro or US Dollars.
Personal Details
For security reasons, the fields in this section need to be filled in correctly.

Example: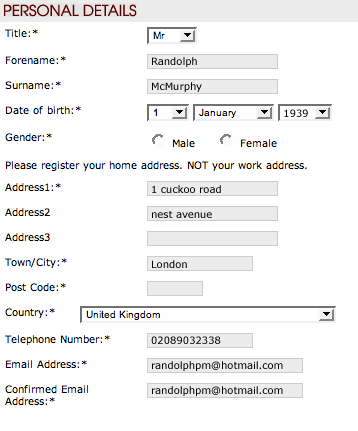 Firstly, you will need to include your Title, Name and Surname.

In the Date of Birth section, please select the correct day, month and year from the drop-down menus. Once that is done, please select your Gender.

The Address1 field is mandatory and would feature your house/apartment number and street name. Address2 and Address3 are voluntary not compulsory but might be necessary if your address1 is too long to fit in one row.

Your Town/City and Post code must be entered in the appropriate fields.

In the Country field you have a drop-down menu. Please select the country your home address is based in. For example, if you are registering whilst on holiday in a country that is not your nation of residence, you must still choose the country of your home address.

Next, please enter your Telephone number within the field including your country's area code.

You will now need to enter your Email address and then once again in the Confirmed email address field.
Card Details
The submission of your card details is for security purposes only and no funds will ever be withdrawn without your full authorization.

Example: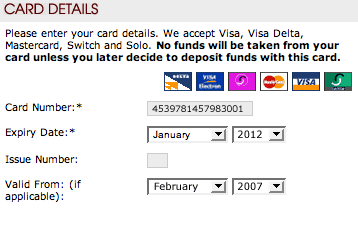 Please enter your Card Number, Card Expiry Date, Issue Number and Valid From Date.

Finally, once you have read and agreed to the Terms and Conditions and to confirm that you are over 18 years of age, please click yes in the relevant fields. To receive newsletters and other promotional emails, please click yes in the third and last field.
Play For Free
You may try our games for free at any time. Simply head to our Lobby.
If you decide you want to play for money then either log if you are an existing member or Open an Account to register.
Trusting Us
WagerWorks (Alderney) 2 Limited is a wholly owned subsidiary of WagerWorks, Inc., one of the leading online gaming software providers in the industry. WagerWorks (Alderney) 2 Limited is regulated by the Alderney Gambling Control Commission. All our games have been tested and certified for fairness, accuracy and security. For further information on the certification and licencing process please click on WW LICENCE AND CERTIFICATION LANGUAGE.